It's undeniable. Your brain wastes no time in sending an 'Oh #$*%!' surge of adrenaline through your limbs. You can't help by pick the cords on your imaginary axe and groove along.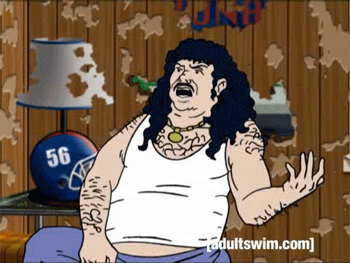 A spine-shivering guitar solo to open a song, however brief it may be, can burn its way into your conscious and become an immediate withdrawal from your memory bank like receiving your first kiss on the playground or learning about your first promotion in your cubicle.
Inspired by the Pardon My Take boys, @barstoolbigcat, @pftcommenter and @hen_ease, here is my Mount Rushmore (plus one) for guitar-only openers. I'm sure there are many that I forgot so let me know what you think. #EmbraceDebate
Voodoo Child (Slight Return)
Jimi Hendrix
I mean, really?, is there anything cooler than that first 20 seconds that Jimi jams out those magical notes? There's a reason @joerogan calls the tune the ultimate landing song at the end of any flight.
Bonus Mount Rushmore points for Jimi because he inspired this great exchange from White Men Can't Jump.
Welcome to the Jungle
Guns 'n Roses
If you went to a sporting event in the 80's or 90's, there was a good chance you heard the first eight seconds of Slash's masterpiece reverberating through the sound system of your local stadium or arena. Aside from the internal rush you feed off when you hear GNR's call to action, there is a palpable, tribal and communal charge that you can feel with the rest of the crowd.
Smells Like Teen Spirit
Nirvana
Kobain changed the game for 90's kids like myself. When that opening sequence came on the radio, you kept it locked on that station for the next five minutes.
Despite the violent imagery supplied by the moniker, this is the most mellow song on this list. The trippy bass line is tremendous. You know The Nuge has a classic on his hands after the first couple seconds.
Smoke on the Water
Deep Purple
The first lick is a banger, but the rest of the song loses me so that's why I have to slide it down the Mount Rushmore scale.
Keep on rockin' in the USA, ya'll. Happy Fourth!
https://giphy.com/gifs/america-hulk-hogan-fourth-of-july-uKwa2KiBA0rTy/embed